Payment & Security
Payment methods
Your payment information is processed securely. We do not store credit card details nor have access to your credit card information.
---
Security
Description
Inverter Generator Type - Ideal for Ideal for Camping & Home Backup Power. Power phone, pad, coffee machine, LED system, refrigerator, microwave, laptop, TV, lights, fans, small power tools and more.

Super Quiet and Lightweight, Portable Design.

ECO Mode & Fuel Saving. This inverter generator will run up to 16 hours at 25% load with the Economy mode. You can turn it on all night without getting up.

Easy to Use: 3 in 1 switch, easy hand pull for women and olds. Advanced display Minder interface for optimal management of the generator.

Multi-Output: Includes two waterproof AC household outlets, 12V DC receptacle, two 5V 2.1A USB ports. 
Power supply for RV, Camper, Home, Truck and more
Specification
Countries

United States of Amercia

European

Voltage

120 Volt ± 10 Volt

230 Volt ± 10 Volt

Surge Power

4000 Watts.

Max 33.3 Amp

4000 Watts.

Max 17.4 Amp

Rated Power

3300W

Continuous 27.5 Amp

3300W

Continuous 14.3 Amp

Noise Level

58 db @ 1/4 load, 7 meters

65 db @ 1/2 load, 7 meters

58 db @ 1/4 load, 7 meters

65 db @ 1/2 load, 7 meters

Fuel /

Tank Size/

Runing Time

Regular Gasoline 87, Unleaded

2.2 Gallon

16 hrs @ 25% load, 4 hrs @ 100% load

EURO 95 Gasoline, Unleaded

8.5 L

16 hrs @ 25% load, 4 hrs @ 100% load

Displacement

143.3cc

143.3cc

Oil

SAE 10W-30
SAE 10W-30

Weight

54 lb
24.5 KG

Size

19.9 x 16.9x 20.3 in

505 x 430 x 515 cm
Videos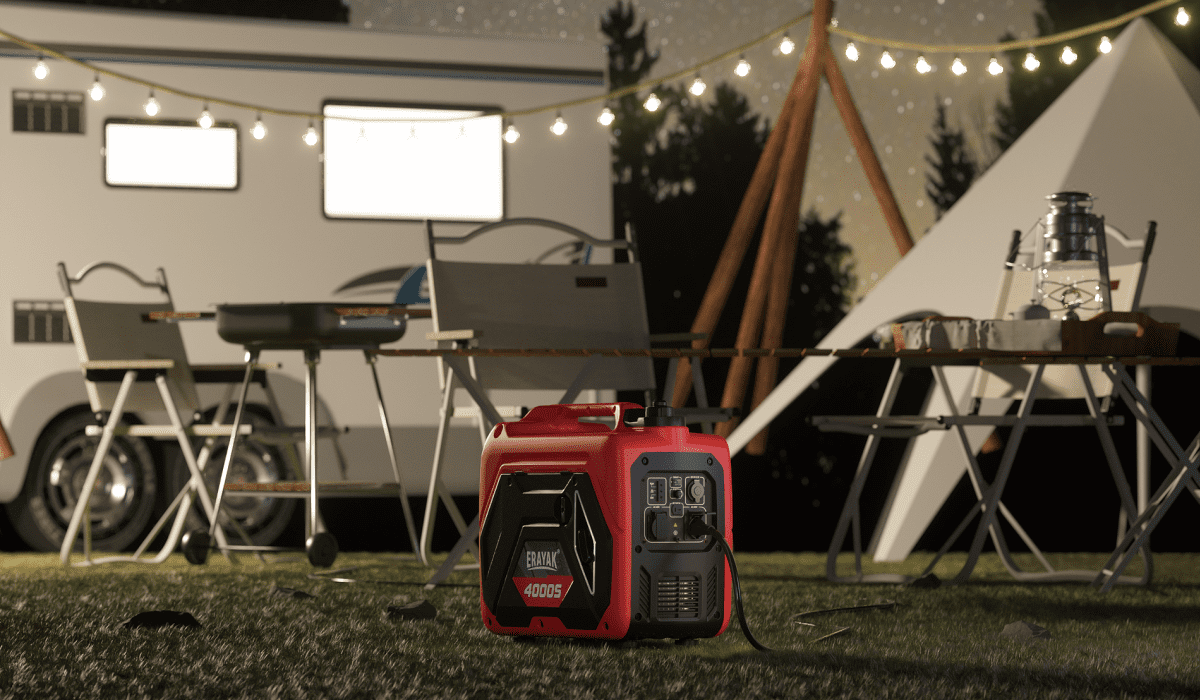 Erayak 4000S Notstromaggregat- Stromerzeuger 4000 Watt spitze und 3300 Watt Dauer Last #erayak
Erayak 4000S Notstromaggregat: ERAYAK 4000W Stromgenerator Benzin Leise Inverter Stromerzeuger Stromaggregat Generator Notstromaggregat mit Ölsensor ECO-Modus für Camping, Wohnmobile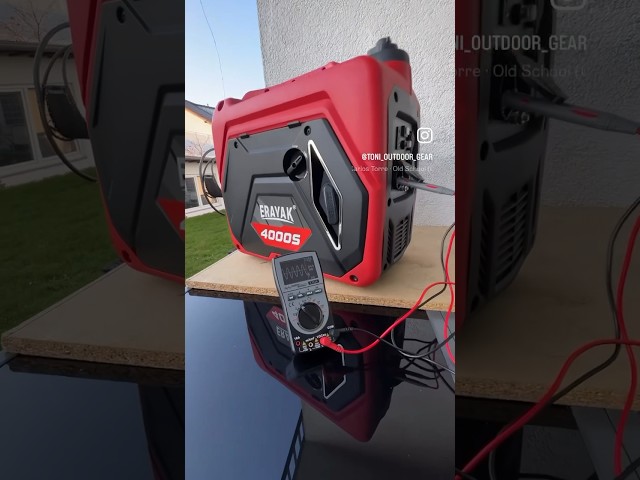 Very good constant performance
Before you start using the engine, you must first fill in engine oil. To do this, you have to unscrew the side panel and fill in almost half a liter of engine oil using the oil can provided.
Once that's done and the tank is filled, you can get started.
In the video you can see the most important things regarding volume, starting power for power-hungry devices, etc. We use the generator to operate a deep fryer, a refrigerator, two punch cookers and the lighting for the punch hut when the hut is not used in the supplied area. With a constant power requirement, the generator consistently delivers almost 4kW.
If you need a higher starting power, such as with an electric chainsaw or an angle grinder, then all you have to do is switch to turbo. Here the generator runs at a higher idle speed and can therefore react more quickly to power-hungry devices.