Payment & Security
Payment methods
Your payment information is processed securely. We do not store credit card details nor have access to your credit card information.
---
Security
Description
1000-Watt Inverter Generator
This powerful generator provides 1000 watts continuous pure sine wave power. Ideal for smart devices, home & camping equipment.
Ultra-Lightweight Portable Generator
At only 28 pounds, this portable inverter generator is one of the lightest 1000-watt inverters in the industry. 
Quiet Generator
58 dBA from 23 feet is perfect for camping, tailgating or to back up a few home essentials, featuring economy mode up to 11.5 hours run time.
Clean Power for Sensitive Electronics
Includes two covered 120V 20A household outlets with pure sine wave clean electricity (less than 1.5% THD). 1x 12V 5A DC for batteries. 2x 2.1A USB ports for smart devices.
Erayak Support - Includes 3-year limited warranty with FREE lifetime technical support.
Videos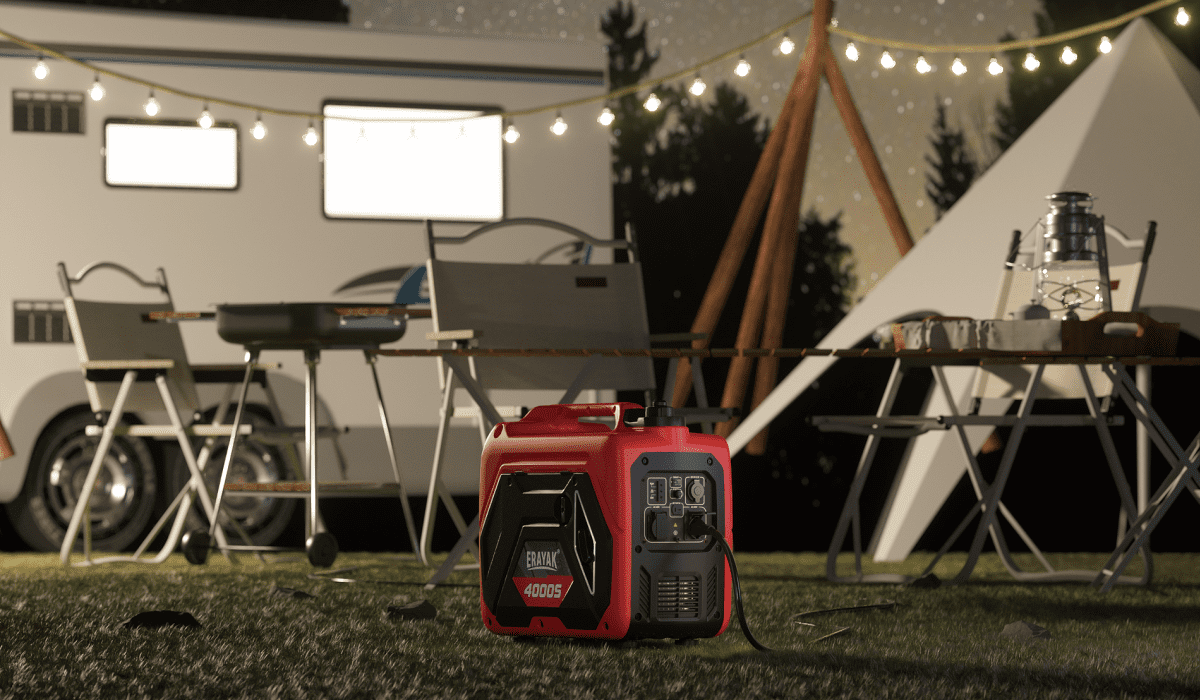 Nice job
Really great thing. Does his job flawlessly.
Thank you for your service
Spitzen Gerät!!!
Funktioniert tadellos, sehr leise und sparsam, bin mehr als zufrieden damit. Super schnelle Lieferung, Rückmeldung der Firma zur Lieferzeit erfolgte umgehend, die tatsächliche Lieferung erfolgte viel schneller. Ich kann die Firma Erayak als absolut zuverlässig empfehlen. Inzwischen habe ich noch ein 2. Stromagregat und einen Wechselrichter bestellt, was ebenfalls bestens geklappt hat.
Funktioniert sehr Gut
Sonntag bestellt, am Dienstag sehr gut Verpackt erhalten.
Stromerzeuger entspricht exakt der Produktbeschreibung und den Bildern.
Inbetriebnahme war einfach und dank guter Beschreibung für jeden machbar. Starten in kalten und warmen Zustand bis jetzt ohne Probleme.
Lautstärke liegt bei Volllast mit gemessenen 58 dB bei ca. 7m Abstand auch in der Zusage.
Ansonsten funktioniert die Stromversorgung bei meinem Wohnmobil wie gewünscht.
35 Ah Ladegerät, Kühlschrank und Weiteres liefen ohne Probleme.
Es ist bis jetzt sehr vergleichbar mit meinem Honda-Stromerzeuger den ich früher schon mal hatte.
Notstrom
Oel auffüllen Benzin und los ging es sehr leise .Bin sehr zufrieden
Preis Leistung: gut
Nach 1-stündigem Probelauf und verschiedenen Experimenten kann ich dem Aggregat psch bescheinigen, daß man das bekommt was auf dem Karton drauf steht.
Spannung beibt auch bei abruptem Lastwechsel stabil (hier 228 V), Frequenz steht stur auf 49,99 Hz (allerdings mit reichlich Oberwellen). Bei knapp 1000W (ohmscher Verbraucher) geht die Überlastanzeige an. Ob es dann nach einer Weile zur Abschaltung kommt habe ich nicht getestet.
Der Öko-Modus senkt die Drehzahl des Motors und somit den Lärmpegel ab, das funktioniert natürlich nur bei Lasten weit unter dem Maximum.
In der Anleitung wird vor "gewerblichem Gebrauch" gewarnt und ein kleiner Aufkleber auf dem Karton weist auf eine Betriebsdauer von max. 6 Std. hin. Das Gerät ist also offenbar nicht für Dauerbetrieb ausgelegt. Aber das geringe Tankvolumen wird das ohnehin wirksam begrenzen.
Daß die Preise in den letzten Wochen um mehr als 30% gestiegen sind, hart ja andere Gründe ...