Payment & Security
Payment methods
Your payment information is processed securely. We do not store credit card details nor have access to your credit card information.
---
Security
Description
Inverter Generator Type - Ideal for Ideal for Camping & Home Backup Power. Power phone, pad, coffee machine, LED system, refrigerator, microwave, laptop, TV, lights, fans, small power tools and more.

Quiet, Open Frame Design.

ECO Mode & Fuel Saving. This inverter generator will run up to 14.4 hours at 25% load with the Economy mode. You can turn it on all night without getting up.

Easy to Use: 3 in 1 switch, easy hand pull for women and olds. Advanced display Minder interface for optimal management of the generator.

Multi-Output: Includes two waterproof AC household outlets, 12V DC receptacle, two 5V 2.1A USB ports. 
Power supply for RV, Camper, Home, Truck and more
Specification
Countries

United States of Amercia

European

Voltage

120 Volt ± 10 Volt

230 Volt ± 10 Volt

Surge Power

4000 Watts.

Max 33.3 Amp

4000 Watts.

Max 17.4 Amp

Rated Power

3500W

Continuous 29.1 Amp

3300W

Continuous 15.2 Amp

Noise Level

65 db @ 1/4 load, 7 meters

78 db @ 1/2 load, 7 meters

65 db @ 1/4 load, 7 meters

78 db @ 1/2 load, 7 meters

Fuel /

Tank Size/

Runing Time

Regular Gasoline 87, Unleaded

3.1 Gallon

25 hrs @ 25% load, 7 hrs @ 100% load

EURO 95 Gasoline, Unleaded

12 L

25 hrs @ 25% load, 7 hrs @ 100% load

Displacement

212cc

212cc

Oil

SAE 10W-30
SAE 10W-30

Weight

66 lb
30 KG

Size

16.2 x 19.3x 18.9 in

410 x 490 x 480 cm
Videos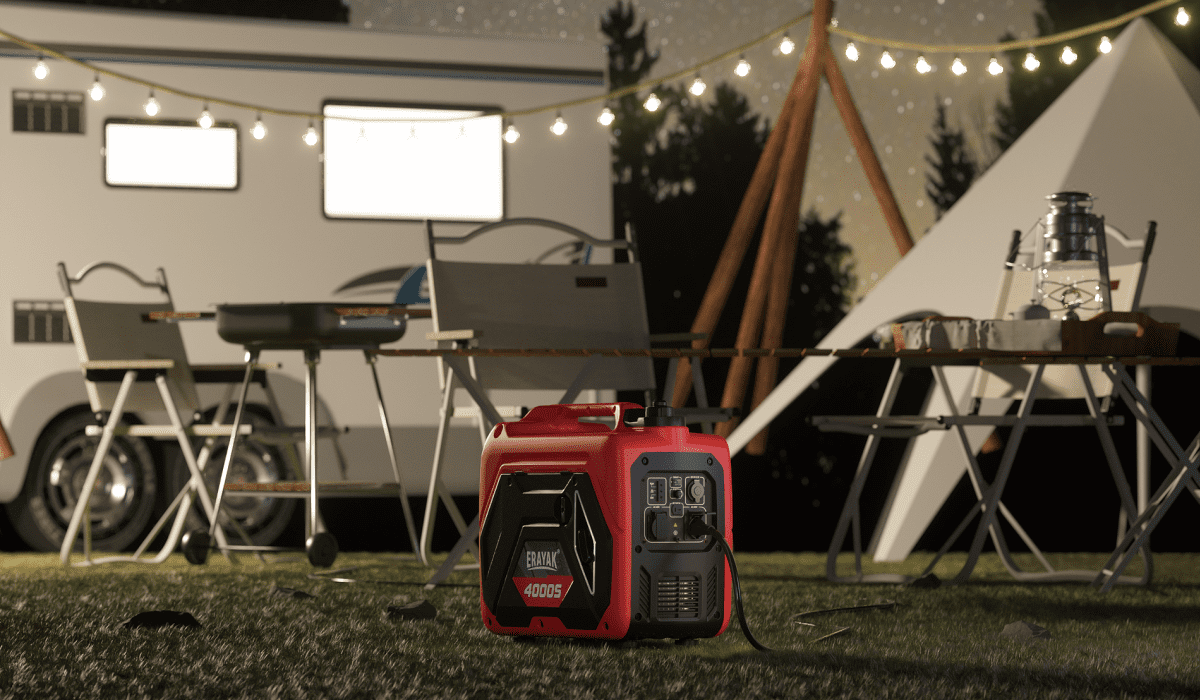 Stromaggregat Erayak 4000P Notstromaggregat 3500W Inverter #stromversorgung #erayak #stromausfall
ERAYAK 4000W Inverter Stromerzeuger Benzin, Notstromaggregat Leise Benzin, Stromgenerator mit 3-in-1-Schalter, Ölstands anzeige, Schalldämpfer, halbumlaufende Kotflügel, zweistufiger Stoßdämpfer.
Video Inhalt:
00:00 Start
00:08 Vorspann
00:37 Einführung
01:25 Lieferumfang + Zündkerze überprüfen
07:59 Öl auffüllen
10:15 Benzin Tanken
10:41 Starten des Stromaggregats (Inbetriebnahme)
11:43 Test auf Reinen Sinus
12:24 Maschinen Test
13:48 Zusammenfassung
15:54 Lautstärke Test (Eco Modus und Voll Power Modus)
17:35 Ausschalte des Stromaggregats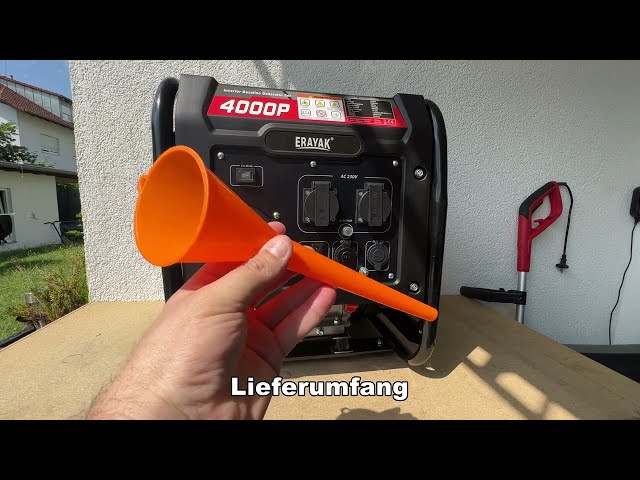 Sehr zufrieden !
Habe mit dem Aggregat jetzt schon etliche Maschinen getestet,die im mittleren Leistungs-
bereich lagen,da lief das ERAYAK. sehr ruhig und konstant.Die größeren Bereiche muß ich mir
im Sommer vornehmen.
Fazit: Habe mich mit diesem Inverter nicht verkauft !
ERAYAK® 4000 Watt Inverter Generator Quiet For Home, EIG4000P