Payment & Security
Payment methods
Your payment information is processed securely. We do not store credit card details nor have access to your credit card information.
---
Security
Description
Inverter Generator Type - Ideal for Ideal for Camping & Home Backup Power. Power phone, pad, coffee machine, LED system, refrigerator, microwave, laptop, TV, lights, fans, small power tools and more.

Super Quiet and Lightweight, Portable Design.

ECO Mode & Fuel Saving. This inverter generator will run up to 14.4 hours at 25% load with the Economy mode. You can turn it on all night without getting up.

Easy to Use: 3 in 1 switch, easy hand pull for women and olds. Advanced display Minder interface for optimal management of the generator.

Multi-Output: Includes two waterproof AC household outlets, 12V DC receptacle, two 5V 2.1A USB ports. 
Power supply for RV, Camper, Home, Truck and more
Specification
Countries

United States of Amercia

European

Voltage

120 Volt ± 10 Volt

230 Volt ± 10 Volt

Surge Power

2400 Watts.

Max 20 Amp

2400 Watts.

Max 10.4 Amp

Rated Power

1800W

Continuous 15 Amp

1800W

Continuous 7.8 Amp

Noise Level

52 db @ 1/4 load, 7 meters

58 db @ 1/2 load, 7 meters

52 db @ 1/4 load, 7 meters

58 db @ 1/2 load, 7 meters

Fuel /

Tank Size/

Runing Time

Regular Gasoline 87, Unleaded

0.95 Gallon

14.4 hrs @ 25% load, 3.6 hrs @ 100% load

EURO 95 Gasoline, Unleaded

3.6 L

14.4 hrs @ 25% load, 3.6 hrs @ 100% load

Displacement

79.3cc

79.3cc

Oil

SAE 10W-30
SAE 10W-30

Weight

43 lb
19 KG

Size

18.1 x 11.7 x 18.8 in
460*297*477 mm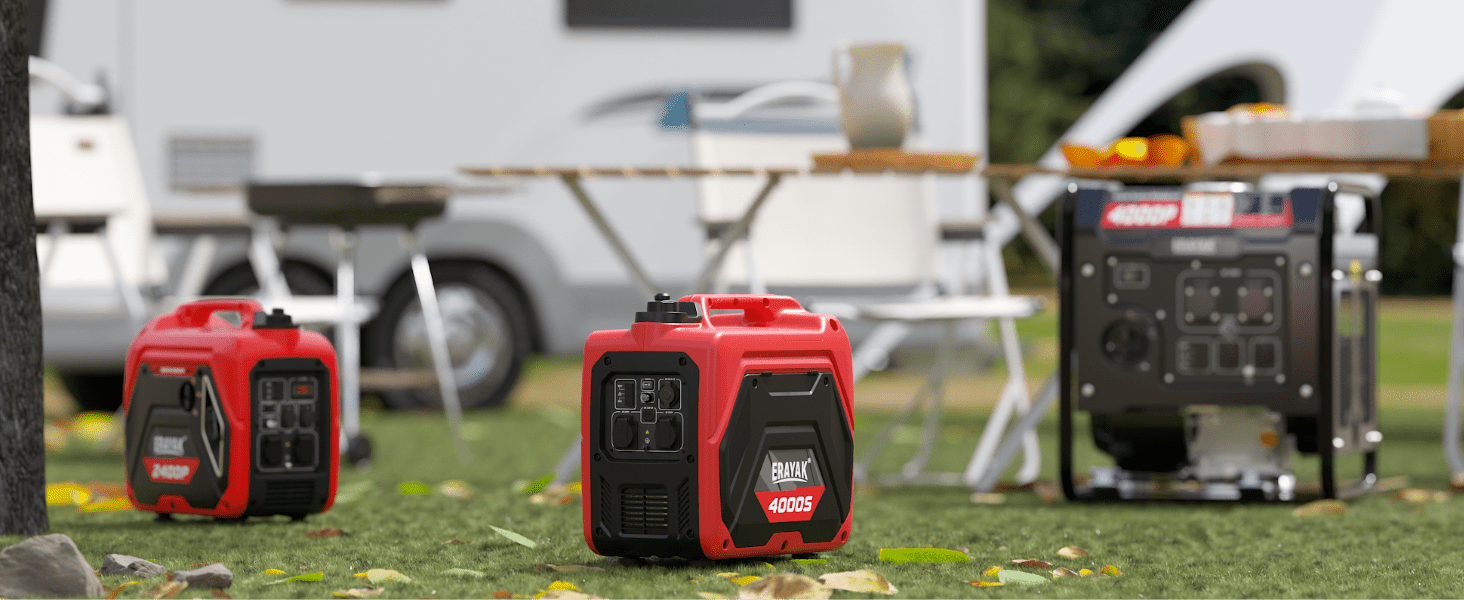 Inverter Generator
The Erayak inverter generators are Super Quiet & Portable generators to keep you powered on the outdoor or at your home. Produce clean, reliable power with high peak watts and adjustable running watts, runs for a night at the ECO-Mode.
Anytime, anywhere: High Fuel-Efficient Portable Inverter Generator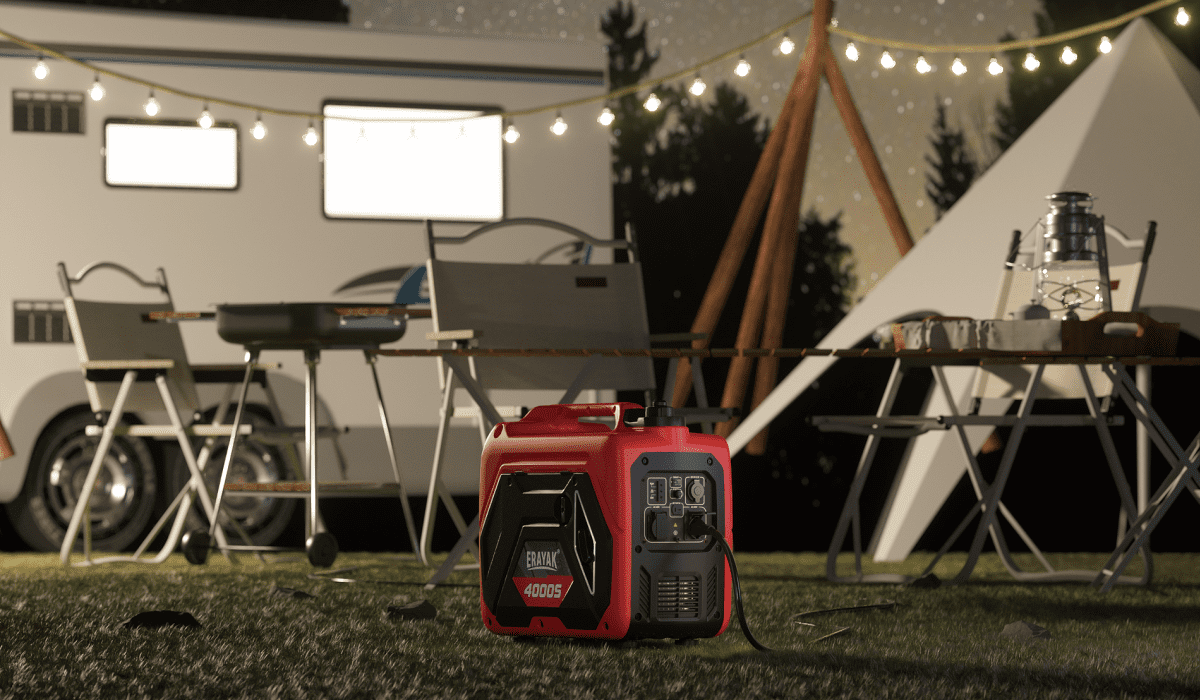 Erayak Inverter Notstromaggregat 2400P #blackout #wohnmobil #camper
Toni Outdoor Gear auf Instagram: https://instagram.com/toni_outdoor_ge...
Heute werde ich euch einen Notstromaggregat vorstellen von der Firma : Erayak 2400P Inverter 1800W Nennleistung und 2400W Spitzenleistung .
Erayak 2400P Kaufen bei Amazon Link: https://www.amazon.de/gp/product/B09T...
Webseite Erayak: https://erayakpower.com/
Email: [****]
Produktbeschreibung:
Hochleistung Notstromaggregat
Mit dem leistungsstarken Erayak-Wechselrichter mit reinem Sinus und dem OHV-Viertaktmotor sorgt er für eine Spitzenleistung von bis zu 2400W (Maximale Startleistung) und eine Nennleistung von 1800W. Kann Klimaanlagen, Fernseher, Kompressoren, Pumpen, Kühlschränke, Öfen, Heizungen, Kaffeemaschinen, Kettensägen usw. laden, Benzin-Notstromaggregate perfekt für Wohnmobile, Camping, Baustellen, Gärten...
【Ultra Leise und Tragbar Inverter Stromerzeuger】 Verbessertes schallabsorbierendes Design, der Geräuschpegel bei 7 m ist niedriger als 58 dB und der niedrigste ist 53 dB im Eco-Modus, der für die Nachbarschaft freundlich ist. Mit einem Gewicht von nur 19 kg und einer kleineren Größe ist der Erayak Inverter Stromerzeuger 2400P ein branchenführender leichter, leiser und dennoch leistungsstarker Inverter Notstromaggregat.
【Notstromaggregat mit LCD-Display】 Der eingebaute Hochleistungs-Wechselrichter für reine Sinuswellen des Erayak Notstromaggregat bietet die beste Stromqualität und verhindert Spannungsspitzen. Dadurch eignet er sich für den Betrieb empfindlicher Geräte wie Handys, Laptops, Tablets, Kompressionsmotoren etc. Dank der LCD-Digitalanzeige sind die wichtigen verwendeten Daten Tag und Nacht auf einen blick ersichtlich.
【Notstromaggregat mit Eco-Modus】Notstromaggregat 2400P Enthält zwei 230V AC EU Steckdosen, DC 12V, DC 5V USB Anschlüsse. Der 4-Liter-Kraftstofftank ermöglicht bis zu 8 Stunden Betrieb im Eco-Modus bei geringerem Geräuschpegel und geringerem Kraftstoffverbrauch. Notstromaggregat 2400P hat einen hervorragenden Wirkungsgrad von 0,5 l/kWh.
【Lieferumfang】 Ein Notstromaggregat 2400P, Kraftstofftank, Schraubendreher, Zündkerzenschlüssel, Zigarettenstummel-Anschlusskabel mit deutscher Anleitung.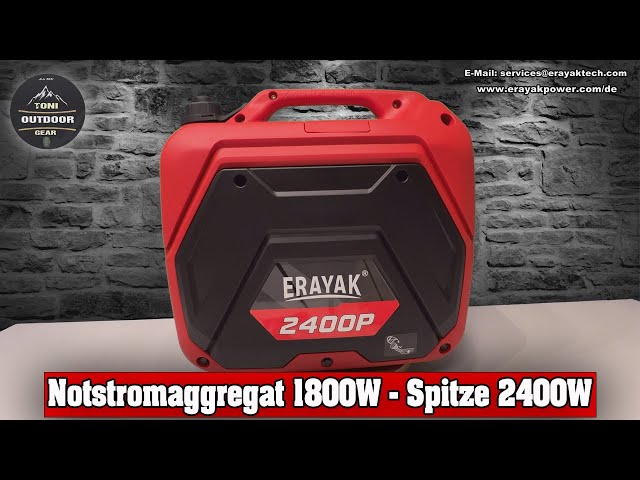 Einer wunderbar Generator
Sobald der Generator ankam, habe ich ihn ausgepackt, die mitgelieferte Bedienungsanleitung gelesen und die Anweisungen zum Aufstellen des Generators befolgt. Der Erayak enthält die Werkzeuge, den Trichter und das Öl, die zum Öffnen der seitlichen Zugangsklappe und zum Befüllen des Generators mit Öl erforderlich sind. Nach dem Tanken habe ich Benzin nachgefüllt und ihn nach draußen gebracht, um ihn zu starten. Der Generator startet beim ersten Zug. Ich habe den Generator 5 Stunden lang mit meiner elektrischen Schlagbohrmaschine betrieben (die eine Spitze von 900 A erzeugt) und die Last geändert, um die maximal empfohlene Stromlast zu erzeugen (nicht mehr als 50 % des Maximums). Anstatt nonstop zu trainieren, laufe ich alle 15-20 Minuten für 2-3 Minuten. Der Generator erhöht die Leistung jedes Mal, wenn die Last ansteigt, überhaupt kein Problem.
Was die Tragbarkeit angeht, ist es für mich einfach, es mit dem Griff aufzunehmen und herumzutragen. Um es auf die Heckklappe eines größeren Lastwagens zu heben, brauchen die meisten Menschen zwei Hände, aber es ist immer noch einfach genug.
Für den nächsten Camping Urlaub
Das Notstromaggregat haben wir uns für unseren Campingurlaub bzw. den Urlaub mit dem Wohnwagen gekauft. So haben wir unsere eigene Stromversorgung immer dabei. Das Notstromaggregat funktioniert per Benzin. Es liegt eine ausführliche Beschreibung bei Lieferung bei. Gut gefällt uns die digitale Anzeige. Wir haben das Notstromaggregat schon bei uns im Garten ausprobiert und sind sehr zufrieden. So hat man auch zu Hause für den Notfall eine eigene Stromversorgung. Das Gerät macht einen robusten Eindruck und es schaut qualitativ hochwertig aus.
must for storm season
It's storm season and my house power often goes out and this is a must when there's a blackout! It's very easy to use and the power would last a very long time. The price is very reasonable considering how good the quality is
Excellent Generator
Easy to handle, easy to start, good performance!