Payment & Security
Payment methods
Your payment information is processed securely. We do not store credit card details nor have access to your credit card information.
---
Security
Description
The DSU Thunder Pure Sine Wave Inverter 1500W 2000W 3000W by Erayak provides high efficiency and reliable performance for camper, RV, solar systems, homes, and outdoor emergency power needs.
POWERFUL DC to AC
SAFE FOR USE - Built in LCD display for load estimation, battery capacity/voltage monitor, and trouble shooting code. LED indicator for low/over voltage protection, over-temperature protection, over-load protection, and short circuit indication. Cooling fans and ground-fault circuit interrupter (GFCI) protection.
PROTECT YOUR ELECTRONICS - Erayak's advanced pure sine wave inverter provides quality AC equivalent to grid power which will protect and extend the life of your electronics and appliances. With its quiet and high inductive loads, there are no strange buzzing sounds when your inductive electronics are turned on and allow them to run smoother, cooler, and quieter.
EASY TO USE - Offers a Type C port and 5V/2.1A USB port, AC Outlets and AC Terminal Block, along with two DC Cables and a 2ft Wired Remote Controller.
Wechselrichter 3000 Watt Reiner Sinus spitze 6000 Watt Erayak für Wohnmobile Insel-Solaranlage #diy
Erayak Wechselrichter Reiner Sinus 3000w/6000W KFZ Spannungswandler 12V 230V Reiner Sinus DSU3000 Mit LCD-Display, USB-Anschluss + 2AC-Steckdosen +Batteriekabel+Handbuch+6m Fernbedienung
【90%+ Effizienz】 Mit einer Umwandlungseffizienz von über 90% liefert der ERAYAK 2000W Wechselrichter einen konstanten 50Hz Ausgang mit 2000W Dauerleistung und einer Spitzenleistung von 4000W. Dies gewährleistet eine reibungslose Stromversorgung für Ihre alltäglichen elektrischen Geräte. Ideal für Reisen, Camping, Zelten, Bootsfahrten, Autoausflüge, Arbeiten unterwegs und an Orten ohne Stromversorgung.
【Schützt Empfindliche Elektronik】 Der ERAYAK 3000W Spannungswandler verwendet fortschrittliche Sinuswellentechnologie, um sauberen, zuverlässigen Strom bereitzustellen. Er eignet sich hervorragend für den Betrieb empfindlicher elektronischer Geräte wie Werkzeuge, Lüfter, Lichter, Fernseher, Computer und Tester. Im Vergleich zu modifizierten Sinus-Wechselrichtern bietet er mehr Stabilität und Langlebigkeit.
LCD-Display und Fernbedienung Die eingebaute LCD-Anzeige bietet die Möglichkeit, sowohl Eingangs- als auch Ausgangsspannungen zu überwachen. Diese Anzeige hält Sie über alle internen Schaltungsprobleme auf dem Laufenden und gewährleistet eine ständige Überwachung Ihres Stromsystems. Zusätzlich ermöglicht die mitgelieferte Fernbedienung eine bequeme Steuerung des Wechselrichters aus einer Entfernung von bis zu sechs Metern.
【Sicherheit und Intelligenz】: Umfassender Schutz und intelligente Spannungsregelung: Dieser Wechselrichter bietet Schutz vor Niederspannung, Überspannung, Überhitzung, Überlastung und Überspannung. Bei Aktivierung des Schutzmodus erfolgt eine Alarmierung durch Blinken der LED und ein Alarm ton. Die Temperaturgesteuerten Ventilatoren gewährleisten Betrieb bei hohen Temperaturen.
Video Inhalt:
00:00 Start
00:57 Begrüßung
01:17 Lieferumfang
03:24 Bedienungsanleitung
07:51 Wechselrichter Erläuterung
08:30 Fernbedienung anschließen
10:50 Gerät Benutzung
11:31 Sinus Test
12:02 Maschinen Test
13:19 Toaster Test
14:35 Caffè Automat Test
16:30 Wasserkocher Test
18:35 Kochfeld Test
20:19 Fazit
#solar #energie #ausbauen #mini #camping #kochen #wechselrichter #inverter #wohnmobile #wohnmobil #insel #solaranlage #vanlifegermany #vanlife #solar #solarenergie #solaranlage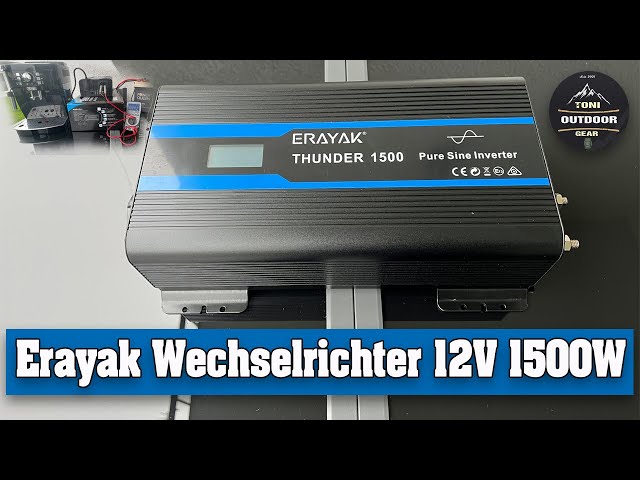 ERAYAK 1500 Watt Wechselrichter 12v Test #camping #wohnmobil #womo
ERAYAK Reiner Sinus Wechselrichter 12v auf 230v Spannungswandler 12v 230v 1500W 3000W Power Solar Inverter Mit LCD-Fernbedienung Fernbedienungspanel.
ERAYAK Wechselrichter 1500W Kaufen :https://www.amazon.de/gp/product/B08V...
Info zu diesem Artikel
【Wechselrichter 12v auf 230v Reiner Sinus】Erayak Reiner Sinus Wechselrichter 12V auf 230V liefert 1500 W Dauerleistung mit 2 AC steckdosen, 2*2.1AUSB-Anschlüssen, LCD-Bildschirm und Fernbedienung. Der Wirkungsgrad beträgt 90 % oder mehr, die harmonische Verzerrungsrate beträgt weniger als 1,5 % und die Stromqualität ist wie zu Hause.
【Hochwertige Reine Sinuswelle Spannungswandler 12V 230V】Erayak Thunder 1500 liefert eine reine Sinuswelle von 12 V DC auf 230 V AC, geeignet für Solaranlagen, Häuser, Wohnmobile, Lastwagen und Yachten. Die reine Sinuswelle passt sich perfekt an induktive Lasten ohne EMV-Störungen an, geeignet für Lüfter, Kapselmaschinen, Mikrowellenherde, Fernseher, Computer, medizinische Geräte und Elektrowerkzeuge.
【Leistungsstarker Wechselrichter】ERAYAK Spannungswandler verfügt über alle modernen Sicherheitsfunktionen: Sanftanlauf, Über-/Unterspannungsschutz, Überlastschutz, Überhitzungsschutz, temperaturgesteuerte Kühlung, daher auch geeignet für Klimaanlagen, Schweißmaschinen, Bohranlagen, Baumaschinen , Ofen und Zentralheizungspumpe usw. Thunder1500 kann bis zu 1800 W Dauerleistung und 3000 W Spitzenleistung erreichen.
【LCD-LCD-Bildschirm und 15 Zoll-Fernbedienung】 Mit dem LCD-LCD-Bildschirm und der Fernbedienung können Sie die Eingangs- und Ausgangsspannung überprüfen, den Nutzungsstatus des Akkus verstehen und den Wechselrichter jederzeit bequemer ein- und ausschalten .
【Was man bekommt】 Ein 1500w reiner Sinus Wechselrichter, eine Fernbedienung mit 15-Fuß-Kabel, eine Bedienungsanleitung, ein Paar Batteriekabel und eine freundliche und geduldige Kundendienstgarantie von 24 Monaten. Das Gerät verfügt über eine CE-LVD, ROHS,EMC, E13(ECE 10R) entspricht. Das Werk ist mit einem Sicherheitsstandard 16mm², einem 60cm langen Reinkupfer-Netzkabel und einer deutschen Bedienungsanleitung ausgestattet.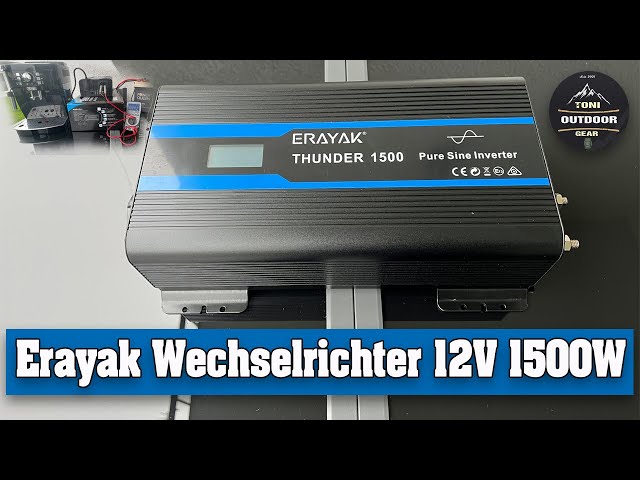 Algo decepcionado
Con un electrodomestico de 1200 watios se desconecta el inverter y esta muy por debajo de su carga de 1500/3000 watios,estoy esperando contentación de la casa vendedora,también salta constantemente el ventilador a un condescargas minimas,tengo otro de esa marca que no es onda pura y no me da esos problemas .
Très bon rapport qualité prix
Le produit équivalent coûte 3,5 fois plus cher en Guadeloupe
Conforme à la description
Livraison rapide